This may be new to you.  It is new to everyone.  The USDA has decided to score strawberries being wet from leaking juice as a serious damage defect.  I assume the US Grade Standards for Strawberries has been around since the Raspberry Standard, which has a date of 1931.  Up until this year, this defect was pretty much ignored.
Looking at the  requirements for a US  No.1 Strawberry, they must be free from damage caused by dirt, moisture, foreign matter, disease, insects, or mechanical or other means.  The definition for damage is, "means any defect or combination of defects which materailly detracts from the appearance, or the edible or shipping quality of the strawberries."  For the past 80 years no one thought that a sound strawberry with juice from an adjacent leaking strawberry was detracting from the appearance which affects the shipping quality of the strawberry.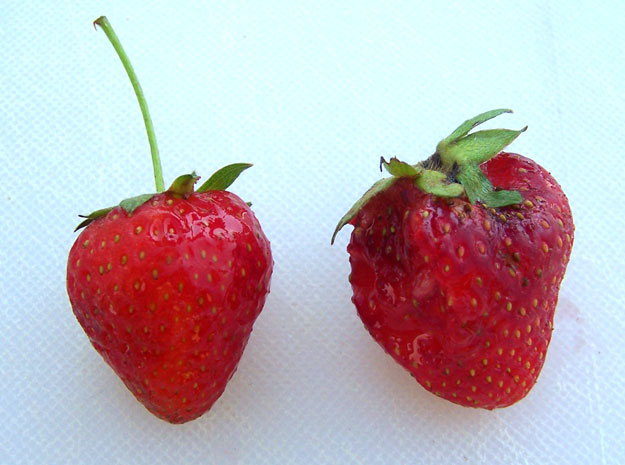 Take a look at the image above.  The strawberry on the right is obviously bruised, being soft, mushy and leaking juice.  No one would argue it is a serious damage defect.  I intentionally smeared the juice from the bruised berry onto a perfectly sound berry on the left.  At least 50% of the surface is covered with strawberry juice.  Up until recently no one would score the defect on the left as a defect.  No one.  During my 30 plus years as a USDA inspector, I never met an inspector that would score the berry on the left as a defect.  I worked in markets throughout the United States.  I worked with inspectors that began their careers long before mine.  I was a trainer at the USDA's Training Center and worked with every state and federal inspector in country.  No one would score the strawberry on the left as a defect.  I've never met an applicant from the industry that expected that strawberry to be scored as defect.   No one believed a sound strawberry with juice  from a bruised strawberry damaged the appearance.  They were right.
But everything has changed.  Someone at the USDA now feels that the strawberry on the left is a defect.  And to make it more incredible, this person now believes the strawberry on the left should be scored as a serious damage defect.  Every inspector in the country is receiving training from USDA management in 2011 to score these wet berries as a serious damage defect.
As an inspector at your DC, use your judgement and check with your manager/buyer to help make the decision as to whether you should start scoring wet berries as a defect.  As a grower/shipper of strawberries be prepared to begin seeing a new defect showing up on your USDA inspection certificates.  If you would like further clarification, or justification from the USDA, you can call:  202-720-2011