A few years ago the USDA published a standard for sno peas, or any type of edible pea pod.  The standard is titled U.S. Grade Standards for Pea Pods.  When inspecting sno peas there are usually a few defects you would be on the look out for.  You would immediately notice the freshness, looking for the color of the calyx as a good indication.  A fresh green calyx is preferred over a dry turning brown to brown calyx.  If the calyx is turning brown, is it a defect?  Nope, there is no requirement the calyxes be a certain color.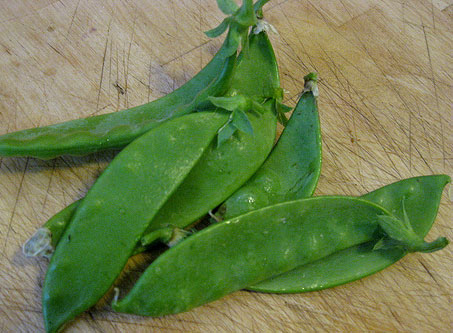 Some of the scoreable defects you would be looking for, would be decay, mold, shriveling and discoloration.  Decay is a fee from defect, meaning any amount of decay found on the sno pea would be a defect.  The other defects have scoring guidelines that test one's patience.  You wouldn't think a small little sno pea would not have so many different scoring guidelines.  Here is just a small sample:
Bruising- more than 1/2 inch
Discoloration- more than 3/8 inch
Mold- more than 5% of the surface
Shriveling- more than 10% of the surface
Hard to imagine one inspecting sno peas and measuring for all the different scoring guidelines…..and these sizes are all based on a sno pea 2-1/2 inches in length.  Find a defect on a longer sno pea and these guidelines become skewed, as you are allowed more of a defect on a larger specimen.
One scoring defect I found inconsistent was the defect "yellowing."  No one will want to purchase sno peas that are yellowing (of course no one will pick up a moldy sno pea either, whether it had 5% or 25% of its surface covered in mold).  But surprisingly the U.S. No. 1 Grade Standard allows for a sno pea to have up to 10% of its surface with yellowing.  But if another sno pea was discolored, only 3/8 inch is allowed.  Isn't a yellow sno pea also a discolored sno pea?   Maybe someone from the USDA Inspection Service will chime in and explain the difference.