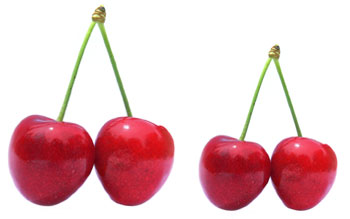 With the sweet cherry season arriving, now would be good time to clear up a little confusion.  When the cherries arrive from California or Washington State you will notice the different size designations on the containers.  You may receive cherries marked as "12 Row", "11 Row" or even in half rows, such as "10-1/2 Row" or "11-1/2 Row'.  These row sizes do have specific size designations.
You may find it useful to size the cherries using one of the cherry sizers.  The first sizer pictured below is the cherry sizer used for cherries packed and shipped from California.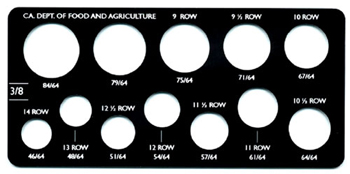 The second sizer, pictured below is the sizer used for cherries originating from Washington State.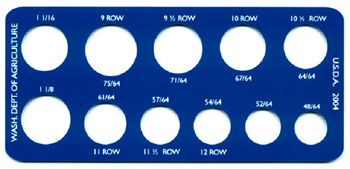 The California Sizer has a few more row size designations, (12-1/2, 13 and 14 Row), but the minimum sizes for the remaining sizes are the same.  For example; if you receive sweet cherries marked 12 Row, that means not more than 5% of the cherries may be smaller than 54/64 of an inch.  Cherries marked 9 Row, means that not more than 5% of the cherries may be smaller than 75/64 of an inch.
The cherries are measured by holding the cherry by the stem and dropping it through the designated hole.  If the cherry passes through the hole, the cherry is considered undersize.  If you have a problem with the size you would want to count out 50 cherries at random and measure each one.  If 3 cherries passed through the sizer, based on 50 count, you would have 6% of the cherries being undersized, exceeding the tolerance for undersize.
For your convenience, listed below are the minimum size requirements:
9 Row-               75/64″

9-1/2 Row-      71/64″

10 Row-            67/64″

10-1/2 Row-   64/64″ (or 1 inch)

11 Row-            61/64″

11-1/2 Row-   57/64″

12 Row-           54/64″