It happens all too often.  You receive a load of produce, where the product is in good shape, but the load has shifted and you notice some damaged cartons.  What are your options?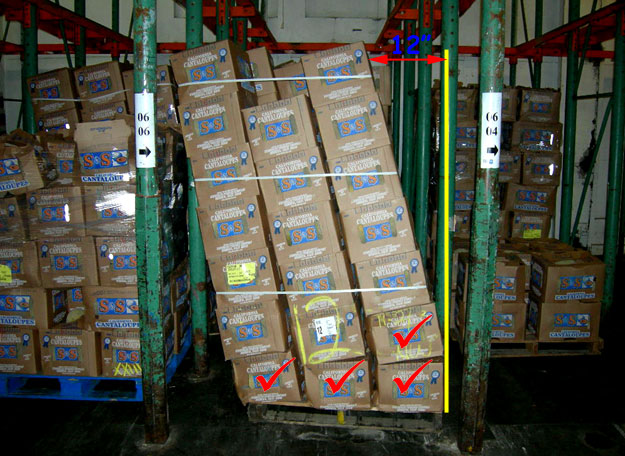 In most cases you can simply separate the damaged cartons from the rest of the load and place the damaged cartons back on the carrier and receive credit for the damaged cartons.  This sounds easy enough, and if the relationship between the buyer and shipper is a good one, this is the path to take.   But not everyone is afforded this method.  As an inspector, responsible for receiving produce, it may be necessary to document and provide a written report to back up your rejection.
Let's use the above image as an example.  You receive a lot of cantaloups, in this case about 5 pallets, or about 250 cantaloups.  The front pallet in the middle of the image is leaning, as well as the back pallet on the left.  With the yellow line added as a guide, You can begin by stating, "Many pallets shifted from 3 inches on the second layer (the first layer is the bottom layer) to 12 inches on top layer, with some cartons on first and second layer being damaged and compressed."
The cartons on the first and second layer, with the check marks, are showing some damage.  You would want to check the contents of these cartons looking for bruising or flattened areas on the cantaloups.  Remember, bruising is a condition defect, meaning the cantaloups may only show slight flattening due to bruising when they arrive, but as the cantaloups sit around in storage the flattened areas may enlarge, become darker in color and the flesh may show signs of being translucent or discolored.
After you have documented the shifted load, the next best thing to do is take a digital picture of the shifted pallets.  If the damaged cartons are showing some cantaloups being split, you would definitely want to document that with your digital camera.