As the table grape season in Chile starts up, a defect to keep an eye out for is sulphur dioxide injury.  I wouldn't say it is a common defect, but you will come across it every now and then.  When packed, the grapes are subjected to sulphur dioxide, to act as a fungicide, to control the presence of mold, mostly blue mold rot (pennicillium) and gray mold rot (botrytis).  The sulphur dioxide is applied as a gas or as a pad, placed in the individual grape cartons, during packing.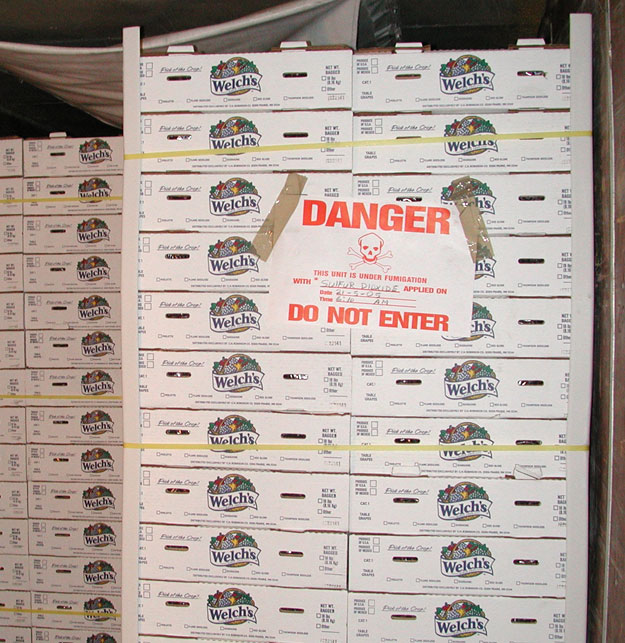 The following is taken from Peak Fresh USA:
"Grape Guard Pads are designed to release an initial burst of sulphur dioxide and a slow release of additional sulphur dioxide over a period of eight to 12 weeks storage. The pads generate sulphur dioxide as a result of moisture take up and if moisture is excessive as a result of packing warm grapes or a break in refrigeration, then the amount of sulphur dioxide generated will be excessive and will taint the grape berries. By using PEAKfresh® carton liners and correct refrigeration, Grape Guard Pads will operate efficiently over extended storage periods."
Unfortunately, sometimes damage to the berries does occur.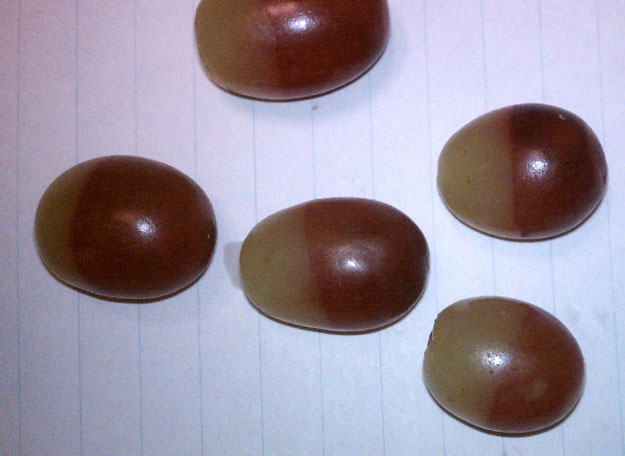 The above image is showing typical sulphur dioxide injury.  You can plainly see the bleaching out, at the capstems, from the SO2 injury.  It is easier to identify this defect on the darker color varieties of grapes, but even on Thomspson Seedless or Perlettes the bleaching is still evident.  The USDA scoring guideline states:
Injury that causes appreciable bleaching or loss of color of the berries of black or red grapes, and only slight bleaching but with the other effects apparent on white grapes shall be scored as "Sulphur Dioxide injury."
Even though the defect is only affecting the color, the berries are scored as sulphur dioxide injury, against the total lot tolerance for defects, 12% (Do not score this defect against the color tolerance).
This defect will progress (condition defect) and the affected area will be become soft and sometimes wrinkled.  In this stage, the defect would be scored as sulphur dioxide injury, but as serious damage, against the 4% tolerance for serious damage.