Red Cell is the name given to the red color sometimes seen on Blackberries.  This falls into the category of being somewhat controversial.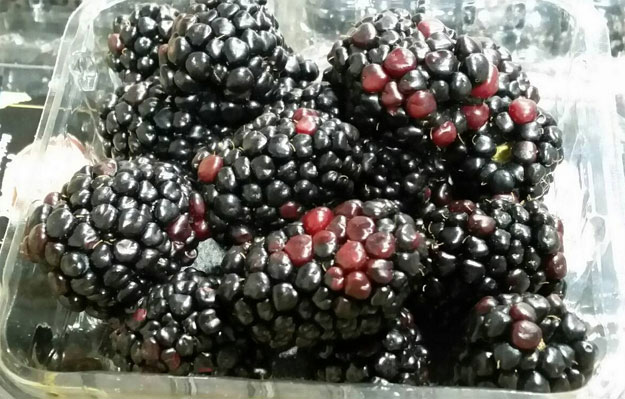 To be honest, I have seen this reddish color on blackberries for years and never scored this as a defect.  I never had seen another USDA inspector score this as a defect either.  At the USDA's Training Center I was assigned to teach all USDA Inspectors nationwide on how to inspect strawberries and other berries and this topic never came up.  And lastly, never have a retailer or wholesaler asked me to score this as a defect in all my years as a USDA inspector.  Was I wrong all these years?  Was the USDA wrong all these years?
Now, let's move forward.  During a  recent training class for a major retailer a question was raised.  How is "red cell" on blackberries scored or not scored as a defect?  I immediately referenced the U.S. Grade Standard for Blackberries and found no reference to Red Cell, but the U.S. No. 1 Grade does require the blackberries be well colored.  Well colored means,  "that the whole surface of the berry shall be a blue or black color."  No red color is allowed.
Surprised by what I read, and contrary to what I had done, I reached out to the USDA to get an official response.  To help clear this up the USDA has created an official visual aid to give the fresh produce industry a guide as to what is deemed acceptable, what is scored as a defect, as damage, or what would be considered as being scored as serious damage.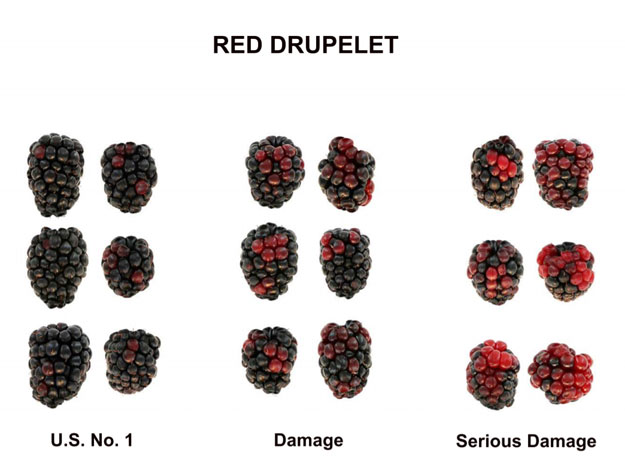 Do you think the USDA is correct in with their scoring guideline?  As you can see from the visual aid, for those blackberries considered as U.S. No. 1, the USDA does goes against the grade standard and is allowing some red cells on the surface of the berry.  Most QA's I've met with do score red cell as a defect, but most score the defect as damage when it affects about 20% of the surface or more.  No doubt about it, this visual will change the way some QA's are currently scoring red cell as a defect.
Most people I have talked with believe the defect is caused by a cooling issue, not a coloring issue.  Dr. Manuel Madrid states "The main reason for this defect is delays in cooling, that is, too long harvest to cooling times. Or breakdown of cold chain during transport ( for example, upper boxes in air cargo blackberries , exposed to hot temperatures on the Tarmac). Some varieties are more prone than others to this defect. If the cold chain is fast and intact, this problem is reduced to a minimum."  Dr. Madrid is not alone.