Many of you have probably cut into an apple and sometimes noticed a watersoaked, glassy appearance.  This defect is called watercore.  Visible watercore if you can detect the glassy appearance without cutting the apple, or invisible watercore when there is not indication of the defect, unless you cut the apple in half.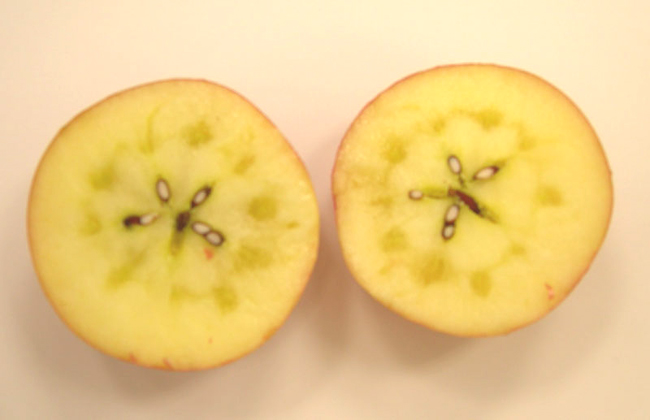 This defect is found in practically all apple growing regions around the world.  It is usually attributed to growing conditions with intense heat and sunlight.  High temperatures at the time the apples are approaching maturity favor its development.  The disease is most likely to occur in fruits that are freely exposed to the sun.   Certain varieties are more susceptible to watercore,  such as Rambo, Jonathan,  Red Delicious, Stayman and Winesap.
But is it a defect?
According the U.S. Grade Standards for Apples; If you find invisible watercore in Fuji apples it is never scored as a defect.  

Never.

If you discover invisible watercore prior to February 1st, in any variety of apples, it is never scored as a defect.
Visible watercore is a free from defect of all varieties of apples, includng Fujis (any time of year) in U.S. Extra Fancy, U.S. Fancy and U.S. No. 1 grades and any amount of watercore that is visible externally shall be scored against the 10% tolerance for the grade.  If the area of visible watercore exceeds 1/2 inch, the apple is scored as serious damage, against the 5% tolerance.
OK, it is after February 1st, and I am finding invisible watercore.  How much is allowed?
Invisible watercore that is severe shall be scored as damage (10% tolerance) against the U.S. Extra Fancy and U. S. Fancy after January 31st of the year following the year of production (except for the Fuji variety of apples).  

It is never a defect of U.S. No. 1 or Cat. 1 apples.

The apple may be scored; as a defect by one of three ways; 1) If watercore extends from a vascular bundle to the core or,
2) when the affected areas surrounding three or more vascular bundles meet or coalesce or,
3) more than a slight degree outside the circular area formed by the vascular bundles.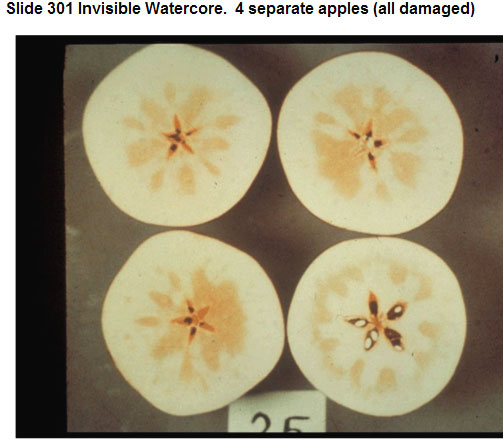 The above photo is an official visual aid depicting 4 separate apples, cut in half, with scoreable invisible watercore.  The top two apples and the apple on the bottom left show the watercore extending from the core to the vascular bundles.  The apple on the bottom right depicts the watercore coalescing with three or more vascular bundles.
If you would like further information regarding watercore please click this link, from Washington State University.