About a week ago I had the pleasure of paticipating in an on-line chat with Tom Karst, National Editor of The Packer.  He asked me a few questions about International Produce Training, what we offer to the produce industry and a few questions about my experience with the USDA, during the bribery scandal in Hunts Point.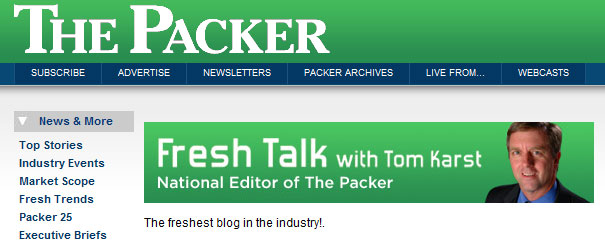 The entire chat can be found here:  Fresh Talk Blog 
A few people have asked me follow up questions surrounding Hunts Point, and the future of the USDA Inspection Service.  While being a trainer for the USDA, for about 7 years at the Training and Development Center in Fredericksburg, VA I was able to meet and get to know every terminal market inspector in the country.  At the Training Center we first started to provide two week refresher classes for every Federal and Federal State Inspector.  A 10 week class for new inspectors was created and held on an annual basis.  Each of these courses devoted much time to ethics training, customer service and professional skill training, as well as extensive hands on grading exercises for technical training.  Due to financial problems within the USDA's inspection program, the two week refresher classes were cut back to a mere 6 hours of on-line training last year.  The annual new inspector training course has been cut back to an 8 week course, and has only been held once during the past three years.
The spacious Training Center is in the process of being scaled down, eliminating the computer class room, eliminating the library, and moving the grading lab to another location within the building.  Will these cutbacks in training and resources have an adverse affect on the workforce?  It most definitely will.  Couple the loss of training with the loss of personnel through layoffs and attrition, and there is problem brewing within the inspection ranks.
I was asked if I thought another "Operation Forbidden Fruit" could occur.  It was a very dark day period of time for the inspection service.  Many thought it was the end of the program. The produce industry had lost complete faith and trust in a service that depends on trust.  The inspectors have done a terrific job of resurrecting the service, maintaining the credibility of the program was paramount, and despite the decisions by management to increase Washington, DC overhead, cut back personnel in the field offices and training opportunities for everyone, the inspectors, the workers, have done an admirable job of providing the best service they can.