The number one question that I hear over and over, is to explain what is considered a good/bad pressure test reading.  To begin with, using a penetrometer is a useful tool to determine how hard or how ripe the fruit is that you are inspecting.  Industry uses penetrometers on a daily basis when storing or packing apples, pears, stone fruit, avocados, mangos, etc.  The USDA will certify their readings from pressure testers when requested, but unfortunately there are very few written policies to follow.
The USDA inspection instructions for apples does devote a small section addressing pressure test procedures and instructions.  But what do the numbers mean.  If I follow the USDA procedures, if an apples records 6 pounds of pressure, is that good?  What if I record a reading of 4.5 pounds of pressure, can I reject the load.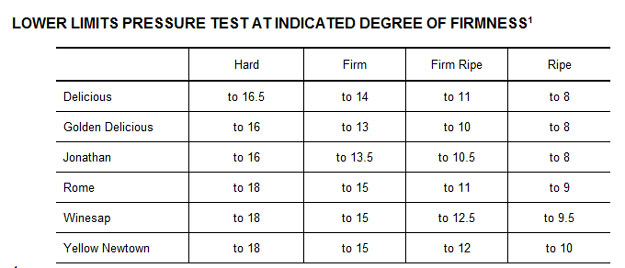 Take a look above at the chart taken from the USDA Inspection Instructions.  For example, if you are inspecting Golden Delicious apples and you have a pressure test reading of 7 pounds, the chart indicates that all readings up to 8 pounds, the apple would be considered as being ripe.  If you have a reading of 12 pounds, that would equate to a firm apple.  So, to answer our earlier question, what if you recorded an average pressure test reading of 5 pounds of pressure for a Golden Delicious apple…..can you reject the load?  The answer is "maybe."  Remember, the penetrometer is a tool you can use to verify your findings.  While inspecting the apples you suspected they were soft, when cutting there was no crisp snap, and they taseted mealy, you could use a pressure tester to backup your decision to reject the load of apples as being soft or overripe.
But what if you are receiving varieties other than Yellow Newtowns or Winesaps?  The USDA instructs their inspectors to base the apple variety they are inspecting on a comparable variety from the chart.
Another common question I hear, "What tip should I use when pressure testing?"  There are some new models of  digital penetrometers on the market, but many people still use the Wagner penetrometer shown below.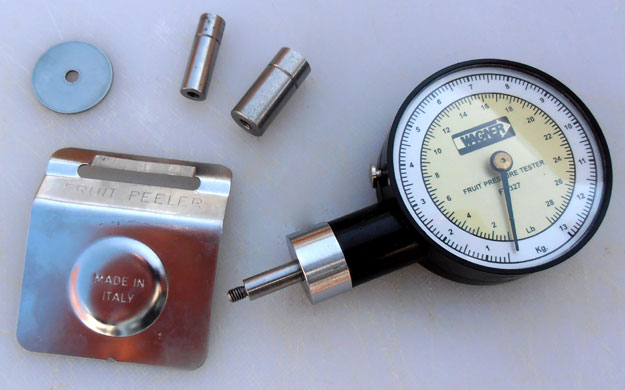 A typical pressure tester will include the slicer along with two tips.  The ones shown from my kit contain a 5/16″ tip and a 7/16″ tip.  It is imperative to use the correct tip for the fruit or vegetable you are inspecting.  A few years ago a USDA inspector used the incorrect tip while recording pressure test readings on a load of pears.  The mistake resulted in the load of pears being rejected and costing the shipper thousands of dollars.  When the mistake was discovered it was too late.  The USDA was forced to reimburse the shipper for the loss incurred.
Click here to view a chart developed by Wagner illustrating approximate firmness levels, and the proper tip to use.  Remember, the readings are only guidelines.  They are very helpful, but remember to not reject a load based upon these guidelines, but they are beneficial to help you in your decision to reject a load for being overripe.