Ingrown or Internal sprouts on potatoes are a defect when a potato begins to sprout, but the sprout grows into the flesh potato instead of growing outward.  I have only seen this a few times over my career as an inspector, but I have never seen this severe enough to score as a defect.
This defect is to be scored as an internal defect, allowing more than 5% waste for damage and more than 10% waste for serious damage.  At shipping point, the U.S. Grade Standard allow 5% of the potatoes with internal defects, while at market, or destination, the tolerance for internal defects is increased to 7%.
USDA inspectors will make preliminary "exploratory" cuts on 5 random potatoes looking for inernal defects for each sample.  If this defect is found, or any scoreable internal defect is found, then the inspector will cut a 20 pound sample looking for internal defects.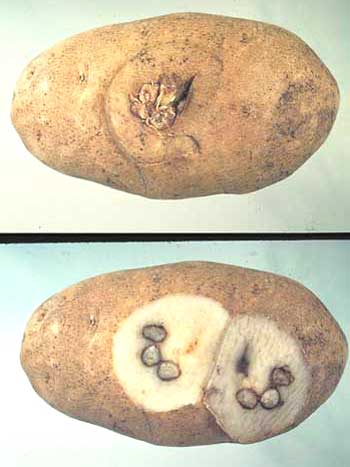 This is a picture depicting ingrown sprouts on potatoes.  As always I am looking forward to hearing from you regarding this topic……should this be considered an internal defect if the presence of internal sprouts can be detected externally?  Have you ever seen this defect?  Have you ever scored this defect, or rejected a load of potatoes because of ingrown/internal sprouts?