A rail car of Bartlett pears was recently inspected and the pears were found to be in the firm ripe to ripe stage of firmness, with greenish yellow to yellow color.  But the major defect found was a high percentage of scald.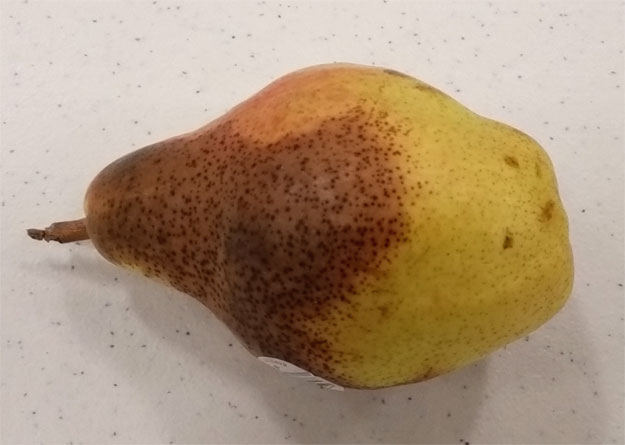 The USDA Inspection states the following:  "It first appears as a brown to black skin discoloration, but progresses rapidly into the flesh at moderate to high temperatures. In late stages, the skin weakens and sloughs off readily. Affected pears have a characteristic disagreeable odor and taste. The disorder is more severe on immature fruits than on mature fruits. Bartlett and Bosc are particularly susceptible to this disorder. Unlike apple scald, this disease is not controlled by oiled wraps but can be reduced by harvesting the fruit at proper maturity and by prompt storage at 30-31°F." 
The pears showed the typical symptoms of scald, varying shades of brown discoloration affecting the surface of the pear.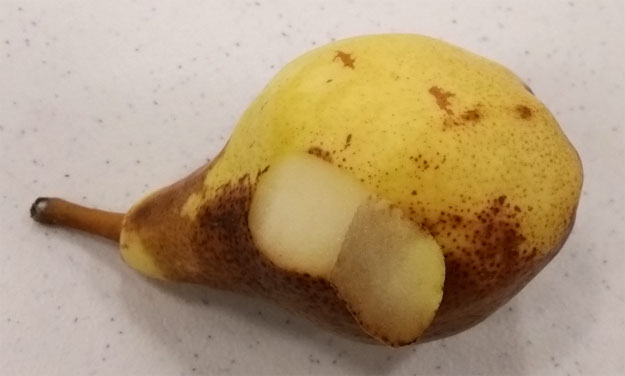 The scald did not penetrate into the flesh, and the surface discoloration was firm, not soft or slimy.  If the skin was soft and sloughed off when touched they would be scored as decay.
The US Grade Standards (Summer, Fall and Winter) all state that scald is a free from defect, on all grades, so no scald is allowed, any size, on an individual pear, no matter the grade the pears are being inspected.  All scald is a free from defect, and any amount of scald is scored as a serious damage defect, at all times, regardless of the shade of discoloration and the size of the area affected.
The pears in the image above would be scored as serious damage, against the 5% tolerance for serious damage.