One of the most unique defects is contact spot.  Simply put, if a perfectly good lemon has mold or decayed tissue on it's skin, the lemon is scored as a defect.  The USDA inspection instructions state: "Any size area on a lemon that shows evidence of having been in contact with decay or mold is scorable as contact spot.  Any amount is scorable as serious damage in all grades.  If the affected tissues exhibit decay characteristics (e.g., disintegration,  mushiness, mold growth, etc,),  score the fruit as decay"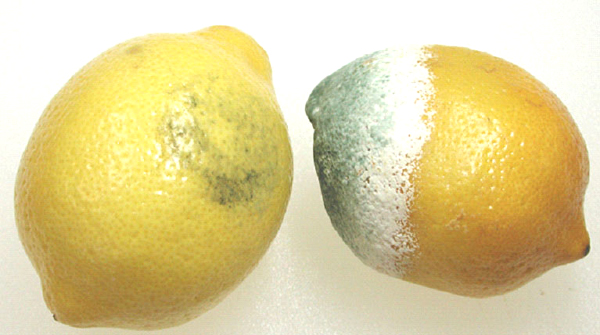 Unfortunately, one of the most common decays of lemons is Blue Mold Rot and Green Mold Rot.  The decayed lemons will be covered with mold spores and the adjoining lemons may have mold on their skin, from touching the decayed lemon.  The problem gets much worse if 2 or more lemons in the carton are affected by the decay.  As you can see from the above picture, the perfectly sound lemon on the left would be scored as a serious damage defect. 
How much mold is allowed on a lemon?  Zero…..the mold or slimy decayed tissue on a good lemon is a free from defect, meaning if you can see it, it is a defect.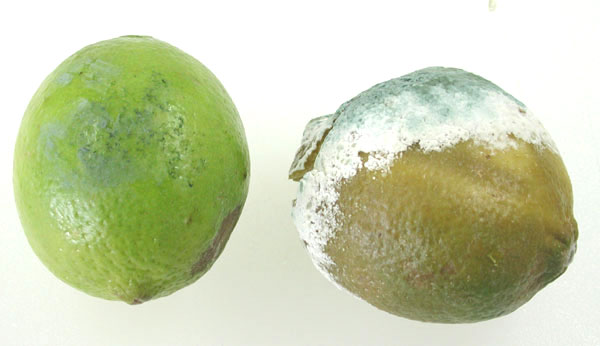 What about other citrus?
No, contact spot is not a defect in other citrus, or any other commodity.  That is what makes this defect so unique; it is only a defect for lemons.  So remember, when you pop that lid on a carton of lemons and the mold spores fly out, get ready to start looking for the lemons with contact spot as well as the decaying culprits.