Garlic may be one product you don't spend a lot of time inspecting when received into your warehouse.  But you should always cut a few bulbs in every sample to detect the presence of internal defects.  One such defect, fairly common with garlic, is waxy breakdown.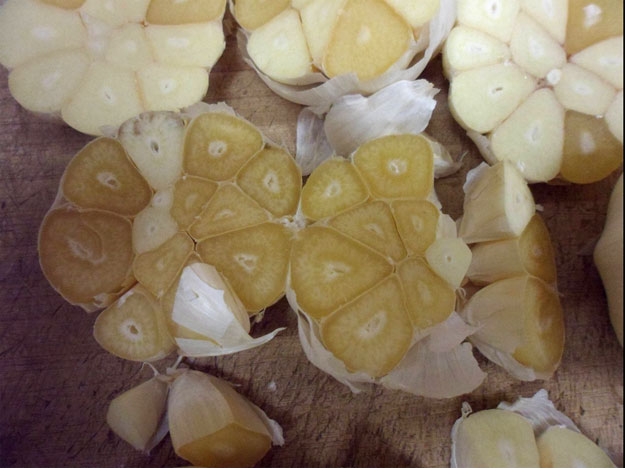 Waxy breakdown is a physiological disease and is thought to be more prevalent in garlic exposed to high temperature while growing, especially close to harvest.  Low oxygen and poor ventilation, while in storage may contribute to the development of this defect as well.
The early symptoms of Waxy Breakdown appear as light yellow areas in the flesh of the clove. This progresses in storage to the stage where the clove shows a deep yellow or amber color throughout and the clove is somewhat translucent and sticky or
waxy to the touch. The outer dry protective scales of the clove are not affected and often no indication of waxy breakdown shows externally until the advanced stage is reached when shrinking of the clove and the amber brown color may become noticeable through the covering scales of the clove.
Waxy breakdown is a condition defect, meaning this defect will progress and become worse, affecting more cloves as well as more bulbs.  To understand the scoring guideline, you must have to understand the terminology of garlic.  Looking at the image above, you are looking at one bulb of garlic, cut in half.  The waxy breakdown is affecting the cloves within the bulb. Counting the cloves on the piece cut in half on the left, there are 13 cloves, and 10 of the cloves are showing the defect, waxy breakdown.
The USDA's scoring guideline reads as follows:
Score as damage, bulbs showing more than 10% of their cloves affected with waxy breakdown. For example: a bulb with 8 cloves showing one clove with Waxy Breakdown would be scored but a bulb with 30 cloves, only 2 of which were affected, would not be considered damaged. Since Waxy Breakdown is progressive, any degree of its symptoms should be counted.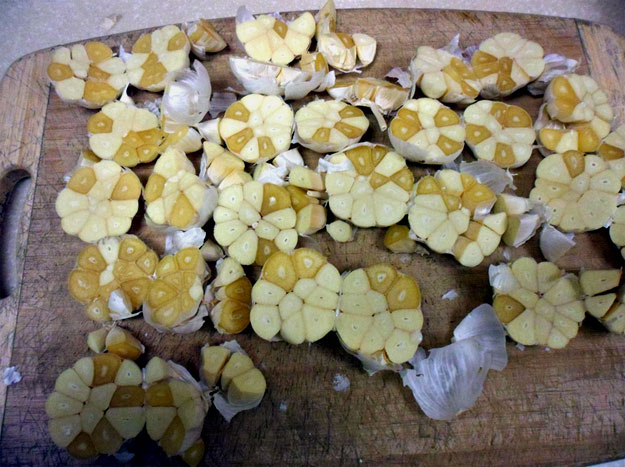 As you can see, when waxy breakdown is found it can be a serious problem.  In the image above there are quite a few bulbs cut in half exposing waxy breakdown.  Using the USDA scoring guideline (more than 10% of the cloves must have waxy breakdown) I can count 2 bulbs that would not be considered a defect, the remainder would all be scored as damage by waxy breakdown, scored against the 10% tolerance for total defects.
To view the US Grade Standard for Garlic.