Because asparagus is a highly perishable commodity, the freshly harvested spears are either cooled quickly using a hydro-cooler, or through forced air cooling.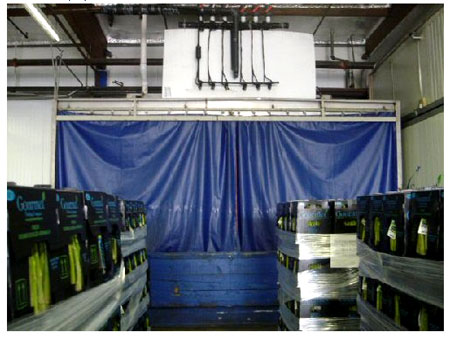 From the hydro-cooling process it is very possible the tips of the spears may appear wet, or even exude water when squeezed.  Although this may lead to an increased chance of decay, the mere fact the tips are wet was never considered a defect.  For the tips to be considered a defect, they had to be noticeably watersoaked or translucent, or they must be slimy, due to decay.
That policy has now changed.  The management of the USDA's Fresh Products Inspection Branch has recently sent new inspection instructions to all their fresh fruit and vegetable inspectors directing them to score asparagus with wet tips as a defect.  This new defect will greatly affect all future asparaus inspections, as wet tips are very common, due to the cooling process.  The industry has accepted this cooling practice for years, and the wet tips usually dry up in storage, never causing any problems.  I've never encountered anyone from the wholesale side of industry complaining of their asparagus having wet tips.  On the contrary….asparagus is prone to shriveling and moisture pads are used in the bottom of asparagus crates and cartons to provide moisture to the spear.  As long as asparagus is kept at the proper
temperature (32 to 36°F), the moisture is a non factor.  Apparently the USDA disagrees.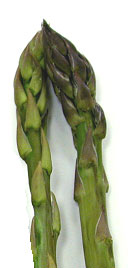 With the tip being darker in color, as shown by the spear on the right, from being wet,  is now to considered a defect.  If the wet tip exceeds an area of 1/4 inch, it is to be scored as damage….if the the wet area exceeds an area of 1/2 inch, it is to be scored as serious damage.  Seriously.
Will the wet/watery tips lead to decay?  Maybe…..but if they dry out in storage, they may be just fine.
What is next on the USDA agenda?  Will they consider wet areas on a cantaloup a defect, wet spots due to pack ice on broccoli?  Apparently they are marching to their own agenda, and growers/shippers are not on their agenda.  If you would like voice your concern with this recent decision, please contact 202-720-2011, to contact the Assistant Chief of the Fresh Products Branch, or by email: cheri.courtney@usda.gov