Products
Check out the Commodity Reference Manual. Over 60 of the most common fruits and vegetables. This manual is packed full of information in a pocket-sized and durable design.
Learn More

>>
Services
Let us train your staff at your location with the commodities of your choice. We have over 30 years of USDA experience. Courses include classroom lectures and hands-on training specialized towards your needs.
Learn More

>>
Resources
Explore everything we have to offer. International Produce Training is the best blog on the Internet for the produce inspection community. Keep the dialogue going; ask a question or submit a comment.
Learn More

>>
When I began my produce inspection career, in 1976, I never envisioned over 40 years later I would be in a position to teach others using my produce experience.
Tom Yawman, Founder of International Produce Training

Read more about the produce inspection trainers
Inspectors' Book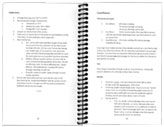 Commodity Reference Manual
This handy reference is a must have for every inspector. Quickly find U.S. and good delivery tolerances, defect descriptions, general quantity terms and storage tips for 60 of the most common fruit and vegetables.
Learn More

>>
Online Training
Choose the Commodities
International Produce Training now offers 16 web-based training courses for the most popular fruits and vegetables. You can choose any single product or the entire curriculum of lessons. Please click here to view more information, with Guest Access, or log in to your already established account.
Sign Up

>>
---
Onsite Training
Choose the Location
Unlike other produce inspection training programs, International Produce Training travels to your place of business and teaches your staff a personalized curriculum based on your business needs.