The third annual training class, in collaboration with the Southeast Produce Council, completed Part I of a two part course in early May.  Eighteen participants attended the 2-day training class, making up a wide range of experience.  Food Lion Inc, Salisbury, NC hosted the training class, with attendees from Delhaize America along with other retailers, wholesalers, and grower/shippers.
The training class agenda was designed to include approximately 3 hours of introductory lessons, reviewing the basic inspection procedures, how to read and interpret a U.S. Grade Standard, general terms and definitions, and some background information regarding PACA good delivery tolerances.  The remainder of the class time was devoted to specific commodity lectures and hands-on grading exercises.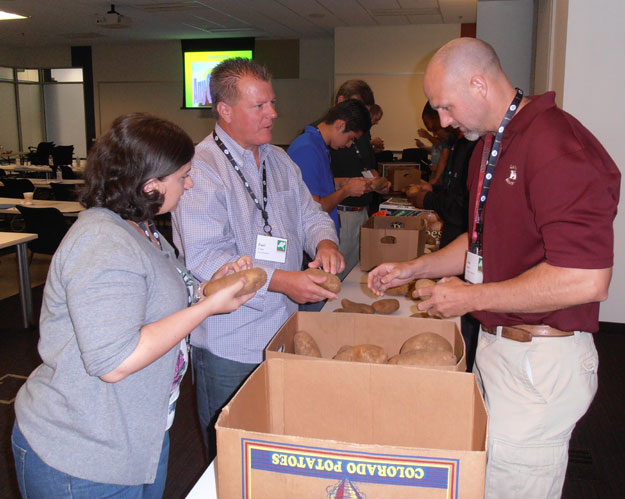 (Maria Capane, CH Robinson, Paul Cross, Nova Produce, and Jim Hutto, Delhaize America, discuss some defects found during the potato grading exercise)
The commodities covered in this class included:
Sweet Peppers
Blueberries
Lettuce
Potatoes
Corn
Summer Squash
Grapes
Strawberries
Watermelons
Plans are under way to develop the second part to this course, as the items for the agenda are being considered.  The dates for this second class are October 17-18, 2o12, at Salisbury, NC once again.  There may be approximately 5 open slots for this course.  If you are interested in attending please click on the link to the Southeast Produce Council for registration information.