A few years has passed and new management has taken control of the USDA's fruit and vegetable inspection program.  The layoffs, and cutbacks seem to be a thing of the past, and the USDA is beginning to hire once again.  Because I have received many e-mails asking questions concerning job opportunities within the USDA Inspection Program, I thought I could offer some help.
To begin with, it is important to understand there are fruit and vegetable inspectors that are licensed by the USDA but work (salary and benefits) for various state departments of agriculture.  Unfortunately these positions are much harder to find, as most state governments are struggling with budget issues and are not hiring inspectors, except to replace ones that have left due to retirements or resignations.  On the other hand the USDA is hiring new inspectors, but the locations of these positions are usually found in major cities, such as Philadelphia, New York and Los Angeles.
To get you started, the best place to begin your search (for job openings at the USDA, not for job openings within the state departments of agriculture) is at:  http://www.usajobs.gov/   This government web site lists every federal job, for every federal agency, from Agriculture to the Department of Veteran Affairs.  After clicking on the site, you have a few choices.  You can immediately begin your search for jobs or you can easily register (user name and password) to set up an account for yourself.  By creating an account you can create and save your resume, to apply for jobs on-line, and more importantly you may create automated searches, that will notify you via e-mail when the selected positions you are looking for become available.
When you are ready to begin searching for jobs, click on "Advanced Search" as this will allow you to quickly look for specific federal jobs.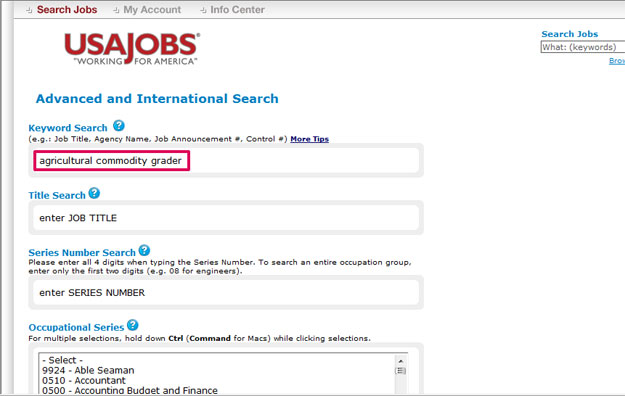 In the Keyword Search section, type in "agricultural commodity grader," as this is the title given to inspectors, including poultry inspectors, processed products inspectors and fresh fruit and vegetable inspectors.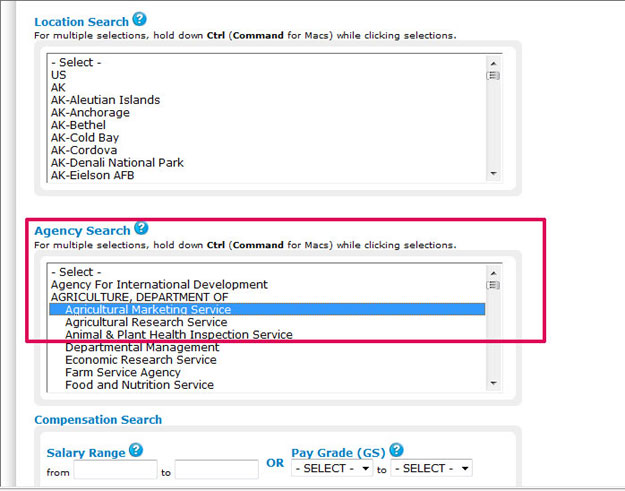 As you scroll down this search page you will want to specify which agency within the federal government you would like to search for open positions.  In the Agency Search section, click on "Agricultural Marketing Service."  AMS is the agency within the USDA that runs the inspection programs previously mentioned above.  Click on the button, "Search for Jobs."
Again, be prepared to most likely find job openings in the major cities, and the starting salary may seem challenging.  But on a personal note, I began my USDA career in Philadelphia, but after a few years I was able to transfer to friendlier cost of living cities, moving to Harrisburg, PA and later Albany, NY.
And lastly, hopefully you find a position that may interest you, but the starting salary is listed as a GS-5, or a GS-7 or a GS-9, and you may be wondering what that means.  The federal government has salary tables specific to certain cities or locations.  Listed below is the salary table for the New York City area.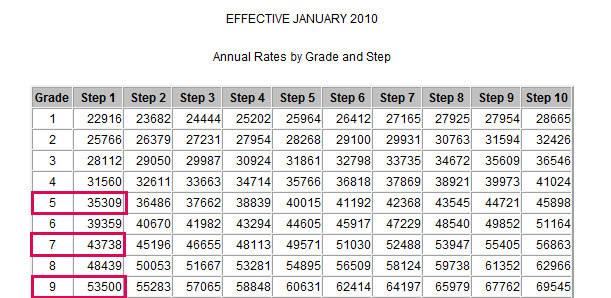 For example, depending on your education, or your experience, or a combination of education and experience, you will be qualified with a starting salary of a GS-5, or a GS-7 or a GS-9.  If you are slotted as a GS-5, you would make $35,309 for the first year on the job.  After 12 months you would be promoted to a GS-7, with a salary of $43,738, and after another 12 months, you would be promoted once again to a GS-9, with a salary of $53,500 per year.  You would then follow the steps through your career, with a potential salary of $69,545, at the GS-9 Step 10 pay grade.
I hope you utilize the USAjobs web site and good luck in your search!