I am curious to hear everyone's reaction to the idea of "Private" companies performing inspections.  When I began my USDA inspection career in the late 70's there was a private company (Eddie Ross) performing inspections for the applicants in the Philadelphia Terminal Market.  And we all remember the Railroad Perishable Inspection Agency (RPIA) performing inspections on the many rail shipments.
During my time in Philadelphia there were many private inspection firms offering surveyor reports and quality assurance inspections on the Chilean Fruit entering the country.  One company in particular (Surveys Unlimited) was actually founded by my colleagues, former inspectors from the Philadelphia USDA inspection office.
I know some companies offer different services, some offer inspection at the shipping point/packing house level, while other companies offer inspection at the receiving points.  Even some state departments of agriculture offer state inspections, not associated with the USDA inspection service.
One company in particular, Ag World Support Systems has been finding new customers for their private inspection work from coast to coast.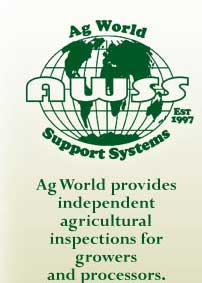 Do you think private companies will be the wave of the future, or do you think some will come and some will go, as has happened throughout the past 30 years?  Your thoughts!